Our services are designed to create value for you and your customers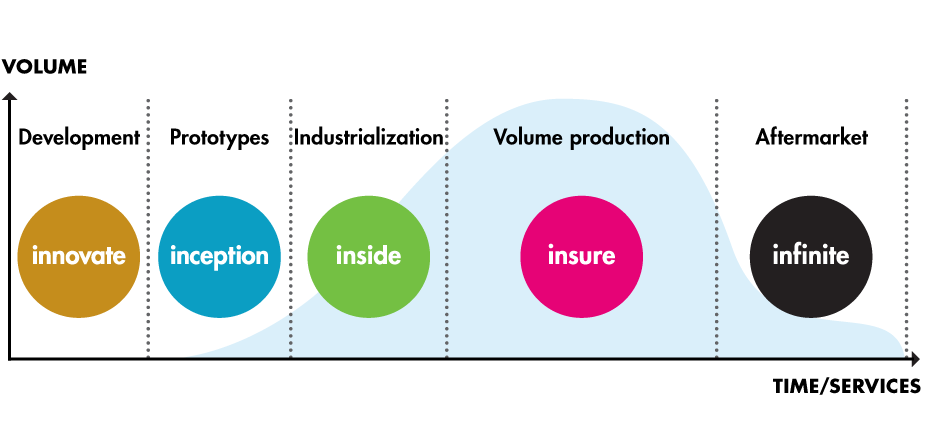 Inission is the industry's only total supplier. Our services are designed to cover the entire life cycle of your product and relieve your organization in moments where we have great knowledge thanks to our long experience. We call it a life cycle guarantee.
Think of Inission as the company's extended arm. As a strategic partner, we function in many ways as the company's own development and manufacturing department. We develop, test and industrialize your product. We stock, repair and upgrade it throughout the life of the product and ensure that there are spare parts for it to work flawlessly as long as it is in operation.
Innovate – development
Innovate is the service for you who want help with development, design and construction. Read more →

Inception – prototypes
With Inception, we quickly help you develop a prototype series based on your requirements and wishes. Read more →

Inside – industrialization
Inside ensures that the product enters the market faster, at a quality and price that the customer's customer is willing to pay for. Read more →

Insure – volume production
With Insure, we ensure a system with efficient volume production, consistent quality and industry-leading delivery precision throughout the entire logistics chain. Read more →

Infinite – aftermarket
In the final stages of product life, we can offer Infinite. In this phase, we work together with the customer and develop an aftermarket plan for maximized returns. Read more →
Our entire group´s strengths and abilities close to you
All assignments and customers are unique. It has been said before, but it can be repeated. We tailor each assignment to the customer's needs at each stage of the process. This is why you can be sure that design, development and manufacturing are tailored to you and not the other way around.
To help us, we have an ecosystem of modern and efficient factories that are suitable for all variants of electronic and mechanic products. Our factories' geographical spread is an important part of Inission's strategy – to be close to our customers. The proximity means that we can work closely together as partners while our whole group's strengths and abilities are at your disposal.
Working closely together as partners creates better communication, increased flexibility, shorter transports and ultimately an unbeatable delivery precision.