Above. The ISO 13485 team at Inission Tallinn.
Inission Tallinn has carried out two major projects during the summer. In addition to having renewed the ISO 9001 and ISO 14001 certificates, the factory has also been certified according to ISO 13485. This means that medical devices now can be manufactured at the factory.
" We are following our strategic plan towards an increased customer base and ISO 13485 opens the door to the medical device segment for us. The certification also confirms to all our stakeholders the qualitative ability we possess at Inission Tallinn", says Marina Strik Managing Director at Inission Tallinn OÜ.
Inission Tallinn has also finalized the installation of a new SMT line. This raises Inission's capacity while strengthening the possibility of standardization between the factories, thus facilitating load balancing.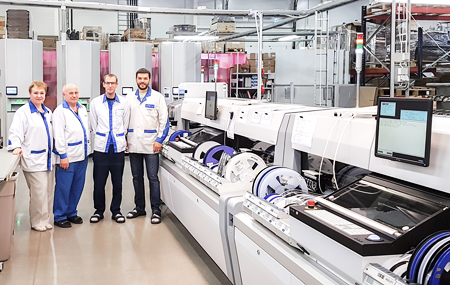 The new Mycronic SMT-line and the team behind the installation.
"The installation of the new line involves a number of improvements – production of more complex products, greater flexibility and increased efficiency of human resources. Successfully completing two projects of this size in a relatively short period of time is evidence of excellent teamwork, and therefore I would like to thank all my colleagues ", says Marina Strik.
"It goes well for our Tallinn business and both projects are due to increased customer demand. We have invested in both capacity and competence, which means that the operations in Tallinn need to expand their crew", says Björn Lifvergren, CEO Inission AB. This feels great. Currently we are just over 60 people but will in the autumn expand with another 10 people.

For more inforamtion please contact
Marina Strik, Managing Director Inission Tallinn OÜ
+372 606 44 22
marina.strik@inission.com
Björn Lifvergren, VD Inission AB
+46 703 22 63 23
bjorn.lifvergren@inission.com
About Inission AB
Inission is a total supplier of tailor-made manufacturing and logistics services in advanced industrial electronics. The Group consists of the parent company Inission AB and the wholly owned subsidiaries Inission Stockholm AB, Inission Borås AB, Inission Munkfors AB, Inission Pajala AB, Inission Malmö AB, Estonian company Inission Tallinn OÜ and the Danish sales company Inission Copenhagen ApS. Inission AB has 331 employees and is listed on Nasdaq First North with Stockholm Certified Advisers AB as a certified advisor.
Inission AB: org.nr 556747-1890
Lantvärnsgatan 4,
652 21 Karlstad
www.inission.com