Inside - volume production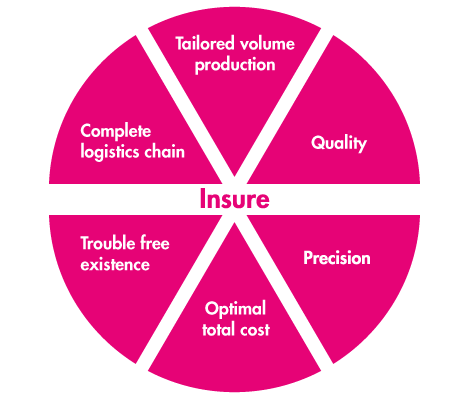 To manufacture complete electronic products is the core of what we do. With Insure, we tailor each assignment to the customer's needs. We ensure an arrangement with efficient volume production, consistent quality and industry-leading delivery precision throughout the entire logistics chain. This gives you as a customer a low capital tied up, optimal total cost and a trouble-free existence.
We offer an ecosystem of factories that suit all needs in electronics and mechanics. Together with the customer, we optimize the product's competitiveness.
Our strength is that we can take responsibility for the entire flow and our customers can focus on their core business.
Modern, efficient manufacturing
In our facilities in Stockholm, Västerås, Munkfors, Borås, Malmö, Tallinn, Lagedi, Trondheim and Lohja, we work with all stages in the manufacturing process for advanced industrial electronics. In Lohja and Lagedi we can also offer mechanics and electromechanics.
Surface mounting
Station-oriented, semi-automatic assembly
Mechanical mounting
Wave soldering
Casting and varnishing
System assembly
Instrument assembly
PCBA mounting
Sheet metal processing
Cabinet production
Final assembly
Post production work
Each product is unique and requires careful adaptation and optimization of the manufacturing process. We inspect the products after each stage (both manual inspection and AOI – Automatic Optical Inspection) and when assembly is done the product is given a final test.
Flexibility is crucial
We are proud of our flexibility and high service ability. We know that conditions can change quickly – and at Inission we are prepared to act just as quickly when that happens. With our long experience of electronics manufacturing, we have solved many production problems for our customers.
Traceability minimizes sources of error
We use standardized work steps together with a well-developed traceability system to systematically detect, isolate and process any sources of error. This method is part of the overall work to constantly improve our processes.

For more information about Insure please contact:

Fredric Grahn, Marketing Director Inission AB
fredric.grahn@inission.com, +46 705 94 11 66