From left to right: Christer Olsson Production Manager, Leif Svensson CEO and Mikael Liljemark Purchasing Manager Inission Munkfors AB.
In order to become more efficient and have the capacity to meet the needs of new and existing customers in the future, an extensive rebuild is underway at Inission Munkfors. The machine park is being modernized and four floors will become one.
By using Inspirit, Inission's own LEAN program, Inission Munkfors is rebuilding to streamline and future-proof all processes. All operations will be moved to one floor in the same building. Leif Svensson, CEO at Inission Munkfors, explains:
– This is a proactive move to be able to ensure continued growth. For many years, Inission Munkfors has consisted of four floors. From a flow perspective, it is not optimal. By gathering all the skills and equipment on one floor, we get closer to each other and can further optimize our flow-oriented business. This means that we can increase capacity, which makes it easier to grow with our existing and new customers.
In connection with the rebuild, Inission Munkfors will also invest in new machine equipment to increase the degree of automation and quality.
– Our machine park will be updated by replacing one of our surface mounting machines with a new one. The same applies to one of our ovens. We make these investments to be able to meet future requirements for electronics manufacturing where the components used are becoming smaller and require higher precision in the remelting process. With the machines new software the operators job becomes easier, which results in a safer and more efficient manufacturing process, says production manager Christer Olsson, who together with Munkfors municipality is responsible for the rebuild.
Mikael Liljemark is Inission Munkfors' purchasing manager and project coordinator regarding the rebuild:
– This is a team effort by everyone at Inission and I am more than happy with how the work progresses. This is a large project that requires flexibility. In order to carry out the project, we have gained access to the northern part of the property. That part has been completely renovated to meet our needs. The northern part adds production space as well as space for offices, conference rooms, changing rooms and dining rooms. The machine park remains in the same place, but the production teams are moving closer to each other for more cohesion and a clearer flow.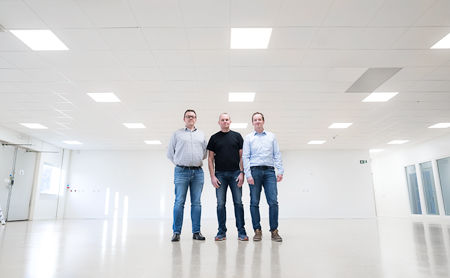 From left to right: Leif, Christer and Mikael in the newly renovated northern part of the property.
The warehouse – the first phase
The warehouse, which has been located on two floors and an external building, will be moved to one and the same floor for optimized material handling. It is also in the warehouse that the rebuild started.

From left to right: Malin Lundberg, Anna Häggstad, Anna Danielsson and Håkan Holmqvist in front of one of the new extraction units.
– The warehouse's new floor plan is the result of an excellent collaboration between us who work in the warehouse and the management. We have had a look at all the proposed changes and they have listened to our ideas. The new warehouse will facilitate our work considerably and in the long run streamline the entire business, says team leader Malin Lundberg.
It's not just that the staff gets closer to all the articles. At the same time as the rebuilding is carried out, the warehouse system will also be restructured. High-frequency items will be closer at hand than low-frequency items, the storage spaces will be used more effectively and pallet racks will be modernized. In this way, the picking time is reduced, the storage space is optimized and the workplace becomes visually more comfortable.
For more information contact:
Mikael Liljemark, Purchasing Manager Inission Munkfors AB
mikael.liljemark@inission.com
+46 563 54 05 49
About Inission
Inission is a profitable total supplier that offers demanding industrial customers in the Nordic region complete electronic and mechanical products of the highest quality. Our services cover the entire product life cycle, from development and design to industrialization, volume production and aftermarket. By combining this with logistics services and a production based on high flexibility, customer adaptation and short lead times, our offer becomes very competitive. Inission has production units in Stockholm, Västerås, Borås, Munkfors, Malmö, Trondheim (Norway), Lohja (Finland), Lagedi and Tallinn (Estonia). Inission is listed on OMX Nasdaq First North.