Xavier Leon, founder of Brinja AB and winner of the Inission innovation award 2022.
On November 10, the winner of the Inission innovation award 2022 was announced. The final was held during Ny Teknik's famous 33 listan Live, Sweden's first and oldest startup list which every year celebrates Sweden's 33 most promising startups by gathering lively venture capitalists, established tech profiles and promising entrepreneurs.
In the final, three strong entries competed for SEK 1 million in development and manufacturing services from Inission. Avsalt with its innovation that removes ions and charged small molecules from water flows, Brinja with its IoT platform for construction sites and Wavr Tech with its digital human twin powered by motion sensors in garments. Three innovations with good inventiveness, feasibility, market potential and news value.
In a dragon's nest-like arrangement, the finalists had to face the jury, which this year consisted of representatives from Inission, Almi, Nordea and Ny Teknik. Before the jury had to reveal the winner, the audience would first choose their own favorite. The audience's prize consists of SEK 50,000 and after the voting was finished, Avsalt stood as the winner.
In conclusion, the jury announced the winner of the Inission innovation award 2022 with the justification:
"This year's winner has developed a product with high inventiveness and great market potential. A smart and easy innovation that reduces costs, provides better control and increases safety. All through an app on your phone."
Xavier Leon from Brinja AB emerged victorious with his IoT platform for construction sites. Under a rain of confetti and cheers from the audience, he received the check for 1 MSEK. Brinja took part in last year's final but was then defeated. This year they got their revenge.
– It was a surreal feeling to finally win. We are in a phase where we are looking for suppliers, so the timing is perfect. This solves several of our challenges, says Xavier Leon from Brinja.
What do you think of Inission innovation award?
– It's a fantastic competition that I happily recommend everyone to apply for next year. The attention and help we get makes a big difference for small companies like us. There should be more competitions like this to apply for, says Xavier in conclusion.
This year Inission Innovation Award was held for the ninth time. The purpose of the competition is to help entrepreneurs and ideas to grow and thrive, but also to draw attention to the Swedish industry that manufactures electronic products. Next year, the competition celebrates its 10th anniversary. Stay tuned at www.inission.com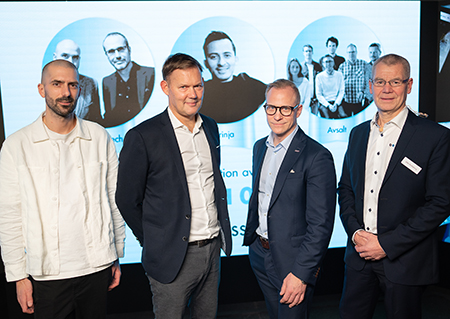 The jury. Fr. left. Christian Isberg Almi, Per Malm Danielson Ny Teknik, Anders Backman Nordea and Olle Hulteberg Inission.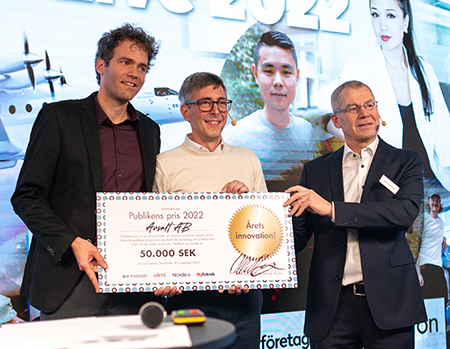 Fr. left. Nicolaas Boon, Johan Säfholm from Avsalt and Olle Hulteberg from Inission.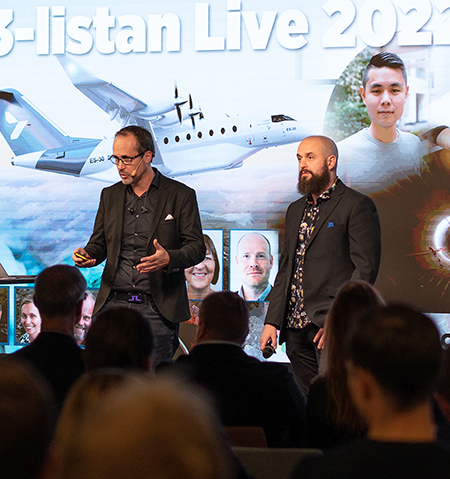 Wavr Tech. Fr. left Patrik Zayas and Samuel Zayas.
About Inission
Inission is a profitable total supplier that offers demanding industrial customers in the Nordic region complete electronic and mechanical products of the highest quality. Our services cover the entire product life cycle, from development and design to industrialization, volume production and aftermarket. By combining this with logistics services and a production based on high flexibility, customer adaptation and short lead times, our offer becomes very competitive. Inission has production units in Stockholm, Västerås, Borås, Munkfors, Malmö, Løkken Verk (Norway), Lohja (Finland) Lagedi and Tallinn (Estonia). Inission is listed on Nasdaq First North.