June 10th, a great day for Inission. The founders and owners Olle Hulteberg (marketing) and Fredrik Berghel (CEO) are finally ringing the bell to announce that trading in Inission AB's shares (ticker: INISS B) starts on Nasdaq First North in Stockholm.
"It is truly a milestone for our company to become listed; we and our employees have worked hard and committed to prepare for this. The offer is received far beyond our expectations, and we are pleased and proud of what we have achieved so far." Olle and Fredrik replies to Nasdaq.com.
"We welcome Inission to Nasdaq First North, and our family of companies, we continue to see a strong influx of new companies on Nasdaq First North, and look forward to supporting Inission in his journey as a publicly listed company." Says Adam Kostyál, senior vice President and head of European listings on Nasdaq.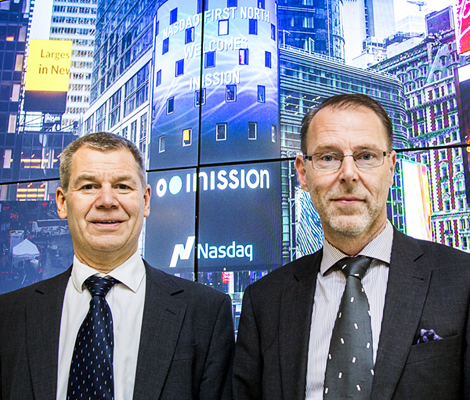 Olle and Fredrik in front of a live stream from market site, times square New York.