(Fr. left.) Björn Jernström and Anders Becker.
In autumn 2012, just over two years ago, Inissions first edition of Inission Innovation Award was held. At the top of the podium and 1 million SEK in manufacturing services richer stood Bjorn Jernström from Ferroamp with his innovation Smart Energy Hub. Now, after several years of development and hard work, we are standing in a basement in one of Örebrobostäders properties and witnessing the installation of Ferroamps first sold product. With circuit boards from Inission.
Smart Energy Hub is a combination of solar cells and local energy storage. The aim is to be able to control the energy flows in an optimal manner, thus lowering costs. Since one can store energy, electricity can be bought at its cheapest, eg at night, and then use it at daytime.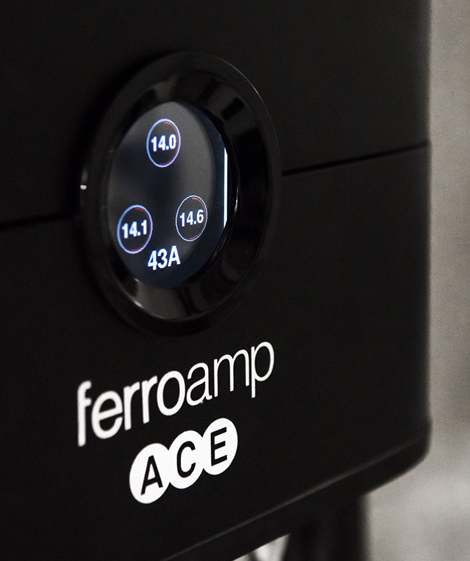 Closeup of ACE. The display shows the distribution of amps in phases.
The product installed at Örebrobostäder is called ACE. ACE is an Adaptive Current Equalizer and a module from the Smart Energy Hub package. The design is appealing. Completely black, rectangular with soft edges and a circular touch display in the middle showing the distribution of amps in the phases. For some time now Ferroamp has started constructing the Smart Energy Hub components as modules that can be sold separately. If one would like to have more parts in the Smart Energy Hub package later, its easy to add on.
The module ACE works best in large apartment buildings where the energy load is high. When new electrical equipment replaces old while more and more devices end up in our homes, they risk ending up in the same phase, which means that the phases are loaded obliquely. Then the property's main fuse can bail out causing problems for everyone in the property. Previously, the solution was to manually move the wires, switch the plug and / or install higher-fuses. But this is only temporary solutions and higher-fuses means higher fixed charges.
With ACE you can avoid this uneven load as it moves energy between the phase conductors to obtain as uniform distribution of phases as possible. ACE allows property owners to reduce their energy costs and use all available energy to their subscription with the lowest possible main fuse.
The installation in Örebrobostäders property went quick and smoothly. Björn Jernström, Founder and CEO at Ferroamp, tell us what will happen next:
– The interest in ACE is high and serial production is very close. First in line is ETC Egen El which has a viewing park in Katrineholm where ACE is to be installed. And of course we hope that Örebrobostäder are happy with ACE and want to have it installed in more properties.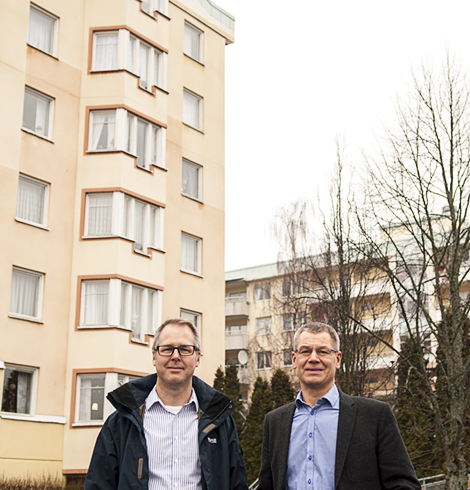 (Fr. left.) Bjorn Jernström and Inissions CEO Olle Hultberg in front of some of Örebrobostäders properties.
Örebrobostäder is one of Sweden's largest housing companies with over 1500 properties. Are the benefits of ACE considered high it means big business for Ferroamp. Jonas Tannerstad, in charge of electrical and automation at Örebrobostäder, explains how they came into contact with Ferroamp:
– Bjorn became aware that we had trouble with the electricity hedges in our properties. He then called me and said he wanted to show us a solution. We at Örebrobostäder puts great emphasis on energy efficiency and to test new innovations is in our nature, so our interest in ACE was high after the presentation. Besides the obvious benefits of reduced energy costs, the ability to store data impressed us as well. And here we are today.
Do you think ACE will be installed in more of your properties in the future?
– We will follow up the initial installation very carefully. If it looks good we will move on to phase two, which means that we will install ACE in a number of model houses that are representative of a larger amount of houses. The data will be used in a wider context. If it proves to be cost effective, it will lead us into phase three, where we at controlled rate will roll out installations in the remaining properties.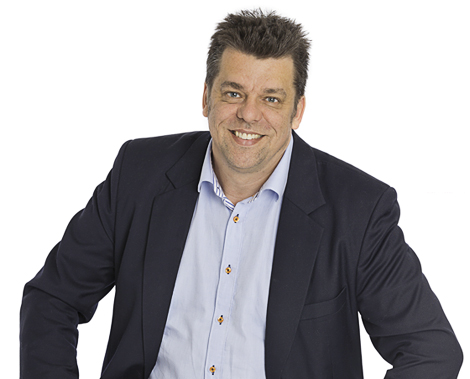 Jonas Tannestad, responsible for electrical & automation at Örebrobostäder.
For more information contact:
Björn Jernström, 0709-308 982
bjorn@ferroamp.com