In black and white: our quality and sustainability work.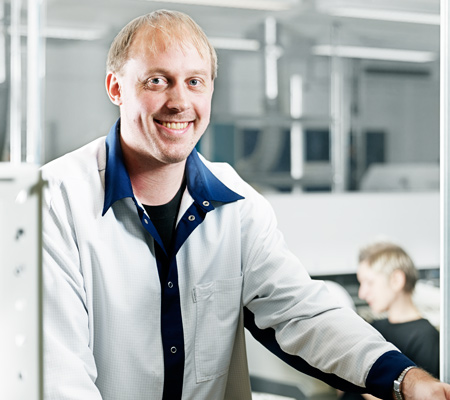 In our opinion quality is not merely about functioning, sustainable products with a long life span. It's also about delivery precision, optimised economy and good customer relations. As part of our ISO certification we continuously measure customer satisfaction – as it is you, the customer, who judges whether or not we are achieving the quality we strive for.
Challenges make us even better
Quality has been our job, every day for over 35 years. Our customers are discerning clients in a range of industries, and they challenge our knowledge and experience in each new project. Today we have a finely tuned logistics and production process, modelled on the Lean concept, which enables us to offer our customers a comprehensive range of services in industrial electronics and mechanics. Read more about our operating system here.
Sustainability as an integral part of our business
Inission has always had high ambitions within sustainability and is well equipped to further focus on these questions. In our role as contract manufacturer, we collaborate with both customers and suppliers to contribute to a sustainable development and future. We take responsibility by including all three perspectives; environment, social and economic sustainability.
Inission has been granted membership of the UN Global Compact. As a result, we support and work with the UN Global Compact and the ten principles in human rights, labor law, environment and anti-corruption, as well as Agenda 2030.
Inission works with four sustainability goals that are central to our business:
– Customer satisfaction
– Employee engagement
– Healthy presence
– Environment
Read more about our sustainability work in our annual report.
A good workplace means good performance
Delivering with Inission's delivery precision calls for more than just standards and certificates. It requires expertise, job satisfaction and consideration for the customer. Our personnel possess specialist expertise and experience that we are happy to share. This is all part of our professional pride.
Certificates, policies and guidelines for Inission's quality and sustainability work
ETL-approved production
ATEX Directive 94/9/EC
Environmental management system (ISO 14001-standard) – Munkfors,  Stockholm, Tallinn, Lohja, Malmö, Borås, Løkken Verk
Medical devices (ISO 13485) – Malmö, Borås, Tallinn, Løkken Verk
All of Inissions other factories are ISO

13485 compatible

UL-certified products
Code of conduct (Human and worker rights, values, environment, business ethics)
Transparency Act (Åpenhetsloven – specifically for Inission Løkken). Business transparency, basic human rights and decent working conditions. Signed statement: Transparency Act.pdf
Inissions Whistleblower Policy
To facilitate the reporting of suspected violations of our Code of Conduct, Inission has a web-based reporting channel available for Inission employees and other stakeholders. This reporting channel is maintained by an external party and is designed to guarantee anonymity.
-> Submit report

Quality and environmental policy for each factory is available on request