In 2020, Inission Munkfors AB has entered into an agreement with Log Max AB regarding contract manufacturing of electronics for the company's harvester heads. The agreement means that Log Max AB can deliver first-class quality to even more satisfied customers in the forest industry.
Log Max is a world-leading company in the forest industry and has for 40 years produced reliable, high-tech harvester heads with Swedish quality.
– We have very high quality requirements for our partners and we chose Inission for their great expertise in electronics. We feel that Inission has control over the quality and has clear routines for a well-functioning quality control. Together, we have all the prerequisites for creating a successful collaboration, says Bengt-Ove Jansson Logistic Manager at Log Max.
Log Max harvester heads are used in harsh work environments around the world, from Russia's icy tundra to Brazil's humid, sandy and hot environments. It is therefore crucial that the harvester heads and all their components deliver the highest possible quality.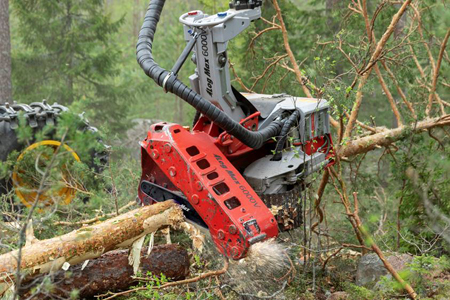 The harvester head is the part of a forest machine that sits at the far end of the crane which grabs the tree, saws, fells, twigs and cuts it into reasonably long lengths.
– High quality requirements are of utmost importance considering the environment in which Log Max products must perform. It fits our business perfectly because we have solid experience of producing electronics that withstand great stress, says Stefan Henriksson Chief Key Account Manager Inission Munkfors.
For more information:
Stefan Henriksson, Chief Key Account Manager Inission Munkfors
stefan.henriksson@inission.com
+46 563 54 05 63
About Inission
Inission is a profitable total supplier that offers demanding industrial customers in the Nordic region complete electronic and mechanical products of the highest quality. Our services cover the entire product life cycle, from development and design to industrialization, volume production and aftermarket. By combining this with logistics services and a production based on high flexibility, customer adaptation and short lead times, our offer becomes very competitive. Inission has production units in Stockholm, Västerås, Borås, Munkfors, Malmö, Trondheim (Norway), Lohja (Finland), Lagedi and Tallinn (Estonia). Inission is listed on OMX Nasdaq First North.