On June 7, Inission Västerås AB changed its company name to Inission Innovate AB. This is to clarify the offer within electronics development to the market. Since January 2023, Inission Innovate's development services are represented in both Västerås and in the same premises as Inission Malmö. The plan is to continue growing in several geographies near Inission's existing EMS factories.
– The name Inission Innovate better reflects our operations within development of innovative industrial electronics. It is also a natural step as we grow geographically with Inission's EMS factories to be able to offer both development and manufacturing close to our customers. The change of name and "company formation" also enable even faster growth to meet our customers' needs and it clarifies the offer to the market and potential recruitment candidates. My coworkers and I look forward to develop industrial electronics for our customers in our new suit, says Marcus Karlsson Managing Director Inission Innovate AB.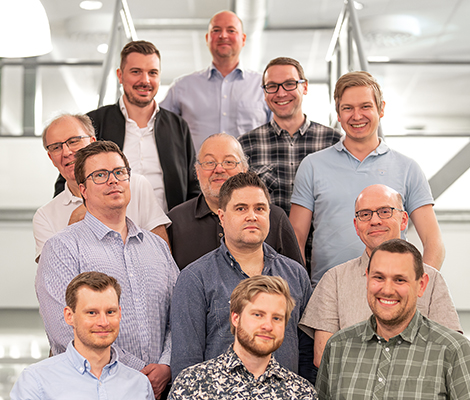 Happy development engineers looking forward to developing your product.
Inission Innovate is Inission's own development house that offers demanding industrial customers development services in electronics. The development engineers work both at their customers facilities, when specialist expertise is required, and with in-house projects where total responsibility is taken for the delivery, from development to aftermarket. With services that cover the entire product life cycle, Inission is a real total supplier.
Inission Västerås AB consisted of both development and production operations. To enable and facilitate the growth that both operations are facing, the production operation has been legally incorporated into Inission Stockholm AB on June 1. The development operation consists of the existing organization number and has changed its name to Inission Innovate AB. No personnel, in either the development or production operations, have changed locations. Both operations remain at the same address and premises.
Former Business Area Manager Marcus Karlsson took office as Managing Director of Inission Innovate AB on June 1, 2023.
For more information:
Marcus Karlsson, Managing Director Inission Innovate AB
+46 76 639 81 07
marcus.karlsson@inission.com
About Inission
Inission is a total supplier of customized manufacturing services and products in advanced industrial electronics and mechanics. Our services cover the entire product life cycle, from development and design to industrialization, volume production and aftermarket services. Inission has operations in Sweden, Norway, Finland, Estonia, Italy, the USA, and Tunisia.
Inission has a strong value-driven corporate culture of entrepreneurship and passion, which has resulted in a turnover of SEK 2 billion with an average of 936 employees in 2022. Inission is listed on Nasdaq First North Growth Market with Nordic Certified Adviser AB as a certified advisor.
Inission's offer is divided into two business areas; Contract manufacturing of electronic and mechanical products under the brand Inission and Power electronics and systems under the brand Enedo.
The information was submitted for publication on June 8, 2023 at 09:00 CET.